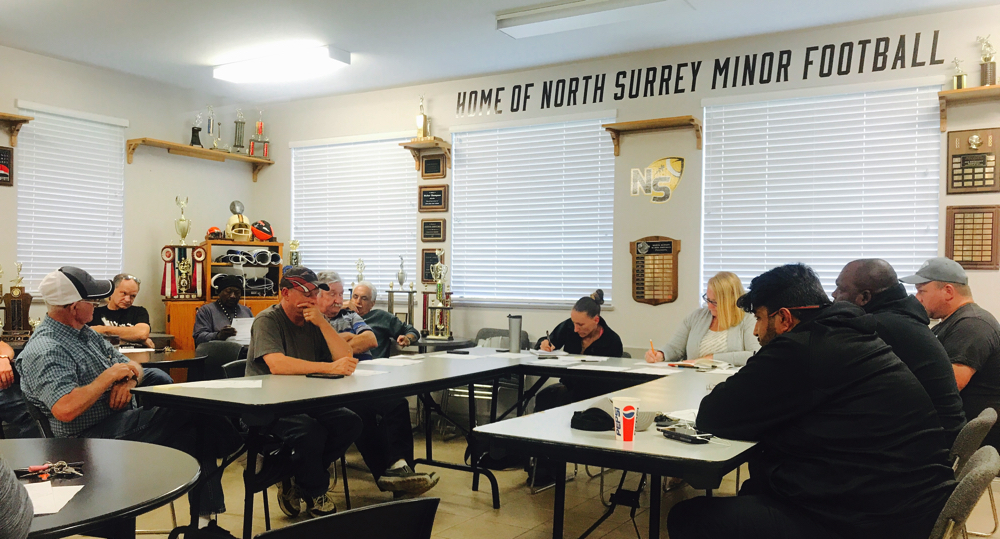 Established in 1962, North Surrey Minor Football is a non-profit association run completely by volunteers. The goal of our association is to provide a safe and structured opportunity for youth to learn competitiveness and fair play through good sportsmanship and rule awareness in either football or cheer.
We're located at Bear Creek park in the north end of Surrey, B.C. NSMF is part of the Vancouver Mainland Football League consisting of teams all over the lower mainland and Vancouver Island. Lower mainland teams are located as far west as Richmond and Vancouver and as far east to Aldergrove. Teams are also located from Coquitlam down to South Delta and Tsawwassen.
Games are mainly on Sundays with the occasional mid-week evening game. Practices are held on Tuesdays, Thursdays and Saturdays. Practices starts at the beginning of July and the season runs from September through mid-November with playoffs going into early December.
NSMF has teams at all levels of minor football. These start at the flag level (ages 6-7) where the kids play a 5 on 5, non-contact ball. Next is Atom (ages 8-9) where the kids play 9-man full contact ball. From there the kids play the full 12-man ball from Peewee (ages 10-11), Junior Bantam (ages 12-13), Bantam (ages 14-15) up to and including Midget (ages 16-18).
Team Chart
We also have an excellent cheerleading program that involves kids from the ages of six up to eighteen. These are grouped into ages of Atom (6-8 year olds), Peewee (9-11 year olds), Jr. Bantam (12-14 year olds) and Seniors (15-18 year olds).
The executive of the club is elected once a year during the annual general meeting and other positions on the board are appointed. We hold monthly meetings at the clubhouse and invite all members to attend and catch up with the day to day business of the football club.
Clubhouse Hours
During football season (January – November)
Tuesday / Thursday 6:00 pm – 9:00 pm
Saturday 10:00 am – 2:00 pm
Off season
Tuesday / Thursday 7:00 pm – 8:00 pm
Saturday 11:00 am – 2:00 pm