August 26 & 27, 2017
Bear Creek Park
Saturday, August 26, 2017: Atom, PW, JB
Sunday, August 27, 2017: Flag, Bantam, Midget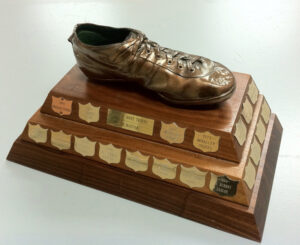 This years 48th Annual Bronze Boot, hosted by North Surrey Minor Football at Bear Creek Park will take place on Saturday and Sunday, August 26th and 27th.
There will be a Social in the Clubhouse from noon to 8:00 pm both days. Come on in and say 'hi.'
Photo Gallery from the 2016 Bronze Boot here →



Rosters
Please hand in Numerical PA Roster, printed with first name first, to John Hocking in the announcer's booth upon arrival.
Guidelines/Rules
Each team plays three (3) 25-minute games (Midget will play one full game)
No time outs or half time
Kick-offs to start game and after scoring plays
No on-field warm up. Teams can warm-up on the practice / side fields prior to games.
Teams must be ready and behind the team benches at the three-minute whistle.
Coin tosses between all captains will occur prior to each Division.
Tournament Winners/Tiebreakers
Best record: 2 points for win / 1 point for tie
Teams tied: Game played between tied teams decides winner
Still tied: Least points against
Still tied: Points for will decide
Still tied: Co-champions declared