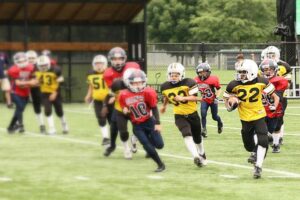 North Surrey football has teams at all levels of minor football.
These start at the flag level (ages 6-7) where the kids play a five-man, non-contact ball.
Next is Atom (ages 8-9) where the kids play a modified flag version of football with protective football equipment and FLAGS on the hips. Blocking will be allowed at the line of scrimmage. There is no tackling, instead, the ball carrier whose flag is removed by defensive player will be considered tackled.
From there the kids play contact Football from Peewee (ages 10-11), Junior Bantam (ages 12-13), Bantam (ages 14-15) up to and including Midget (ages 16-18).
Practices start in early July. August is pre season tournament time. Regular season starts September long weekend and runs through end of November. Provincial Championships are the 1st weekend in December.
Team Chart