Spring Flag Season Update as of March 27, 2020
Hello North Surrey Football family. It is very hard to have to let you know, but due to the current situation with COVID-19, the league has decided to cancel the 2020 Spring Flag Season. We were hoping that at least part of the season could go ahead, but at this time there are too many unknowns and the health and safety of our players, coaches, referees and parents are our number 1 priority.
I know you all have questions with regards to refunds. At this time, here is the information I have available to me.
First, let me explain how the registration fee is broken out. Spring Flag Registration for 2020 was $225 which consists of
$20 BC Community Football Membership
$23 BC Provincial Football Membership and Insurance
$15 Football Canada Membership

These 3 fees go towards things like player insurance, coaching certification and access to Provincial and National Championships. These are annual fees and normally are non-refundable. The league is working with these 3 bodies to clarify how these refunds will be handled given the current situation. Note that this money, when received by NS is immediately paid to these leagues so your player is able to start practicing. We do not hold on to this portion.

The remainder goes towards uniforms, equipment (footballs, flags, etc.) and jamboree fees (fields, refs, etc.) Luckily, we were able to cancel our uniform purchase before it was too late and we haven't paid the league jamboree fees, so that portion is easily refundable. We have purchased and distributed equipment, but this can be reused so we will "eat" that cost.

Players will not get or cannot order a SF uniform
Anyone who paid $5 for the jersey customization will have this refunded as well.
OPTIONS
1 – at this point, of your $225 per player, I can safely say that NSMF can refund $167 ($225-$58) per player, and hopefully I will have an answer on how to handle the 3 league fees outline above very soon.
2 – we can carry over your full registration fees paid to the 2020 fall season. For most divisions there will be a small amount left owing, but we will confirm that on a case by case basis.
3 – if you have applied for Kidsport or Jumpstart, we have not received that money yet and will be working directly with each of these associations to determine the best course of action to cancel/carry over your application requests.
For option 1 or 2 above, please follow the below instructions so that we can process your request. Please note that we expect a high number of emails coming in, so responses may be delayed, but we will get back to you as soon as possible.
To help expedite your request, please;
Send an email to registrar.surreyfootball@gmail.com
Include in the email:
Player Name
Coach Name
Parent Name
Current Mailing Address * if you paid by cash, check, debit/cc (directly at the clubhouse) or etransfer your refund will be by cheque and this will be mailed to you. If you paid by credit card online (esportsdesk), that refund will be issued directly to your credit card.
Options 1 (refund) or 2 (carry over to Fall Season)
This is not the news that we or our players wanted, but we are looking forward to getting back out on the field as soon as we can do so safely.
Over the next weeks/months, the Club and League's focus will move to the 2020 Fall Season and we hope that will be able to move forward without further interruption. For now, please stay safe and healthy and make sure our players keep working on their skills. Just think of this as the off season, a very extended one.
FYI, Here is the notification shared by our parent league, the VMFL regarding the season cancellation.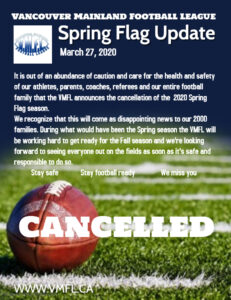 Jean McPherson
President, North Surrey Minor Football
#nsmf #effortandrespect #footballfamily