https://www.surreynowleader.com/sports/covid-and-smoke-delays-football-season-for-north-surrey-other-clubs/
Just days after good deed in Whalley, vandals torch North Surrey Tigers clubhouse. So much for karma.
---
The boys football team spent the evening feeding over 250 people.
---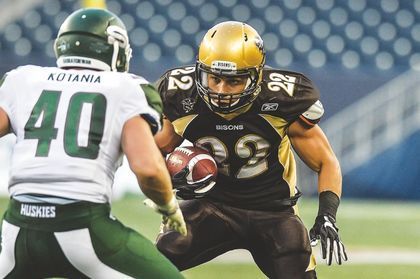 ---
---
---
---
---
Mario Annicchiarico / Times Colonist. JULY 29, 2016 10:35 PM
Football fans in B.C. know what Jamel Lyles is capable of.
A standout with the Lord Tweedsmuir Panthers in Surrey, Lyles then enjoyed a fantastic first season at the University of Manitoba in 2015, where he was named a conference all-star at running back and kick returner and Canada West rookie of the year.
Read full article at Times Colonist →
---
Rebels fend off Rams to win season opener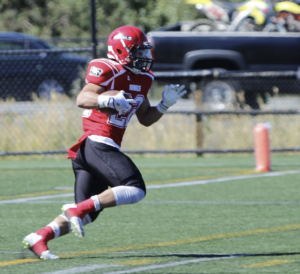 Mario Annicchiarico / Times Colonist
July 25, 2016
The Westshore Rebels opened up a 34-10 lead by the 9:38 mark of the third quarter and managed to hang on for a 42-34 victory over the Langley Rams in Week 1 of B.C. Football Conference play on Sunday afternoon. Trey Campbell ran for a pair of second-half touchdowns and Jamel Lyles (NSMF Alum) recorded a 98-yard major score on a kick return for the hosts.
---
No ordinary Joe, this 49-year pioneer keeps on coaching in North Surrey
By TOM ZILLICH
May 5, 2016 · 10:37 AM
Amateur football pioneer Joe Connelly at the door of North Surrey Minor Football's clubhouse, at Bear Creek Park. / TOM ZILLICH
NORTH SURREY — Joe knows football, and most local people involved in the game know Joe.
This is Joe Connelly we're talking about, a man who has lived and breathed North Surrey Minor Football for five decades.
He began coaching the game in the late 1960s, and never really left.
In Surrey and around the province, Connelly is a football pioneer who was recently recognized as such during the Orange Helmet Awards, the annual celebration of amateur football hosted by the B.C. Lions at a Vancouver hotel.
---
Teen charged with murder in stabbing death of 17-year-old Jaylen Sandhu (NSMF athlete)
By Amy Judd
Global News
April 18, 2016
A charge of second-degree murder has been obtained in the death of a teenager in Surrey in 2014.
Seventeen-year-old Jaylen Sandhu was reportedly stabbed multiple times on Dec. 18, 2014 in the 16300 block of 88th Avenue.
---
Minor football summaries from North Surrey, Cloverdale
Source: Birdi scores four majors – Surrey Leader
Bantam Division: North Surrey Tigers 28, Langley Bears 10
Highlights: Sebastien Reid with three touchdowns, Jaheim Minott with one, and kicker Steven Sharma with four converts accounted for the Tigers scoring. Michael Bachoush was the leading tackler.
---
---
Related articles:
---
SURREY LEADER, September 4, 2015 issue of the Surrey leader. Ryan Stendal of the North Surrey Firebirds chasing Ronin Sandhu of the Richmond Raiders at a flag football game during the 46th Annual Bronze Boot Tournament. — at Bear Creek Park.
---
---
'Incredible experience' for young team
by Melissa Smalley – Peace Arch News, posted Aug 25, 2015 at 1:00 PM
Despite back-to-back losses dashing their hopes for the Little League World Series title, the White Rock All-Stars have "fulfilled a childhood dream" in Williamsport, Pa. this month.
Read Full Article on Peace Arch News Website →
---
NS Quarterback is a Two Sport Athlete
WHITE ROCK, AUGUST 17, 2015 – Jay Mather is not only the quarterback for the North Surrey Junior Bantam Falcons, he is also a White Rock Little League pitcher on his way to the World Series in Williamsport, PA as Canadian National Champions.
Team Canada's first game is Friday, August 21 at 11:00 am PDT.
Read the full story in the Peace Arch News →
Schedule, Results and info at LLBWS website →
---
---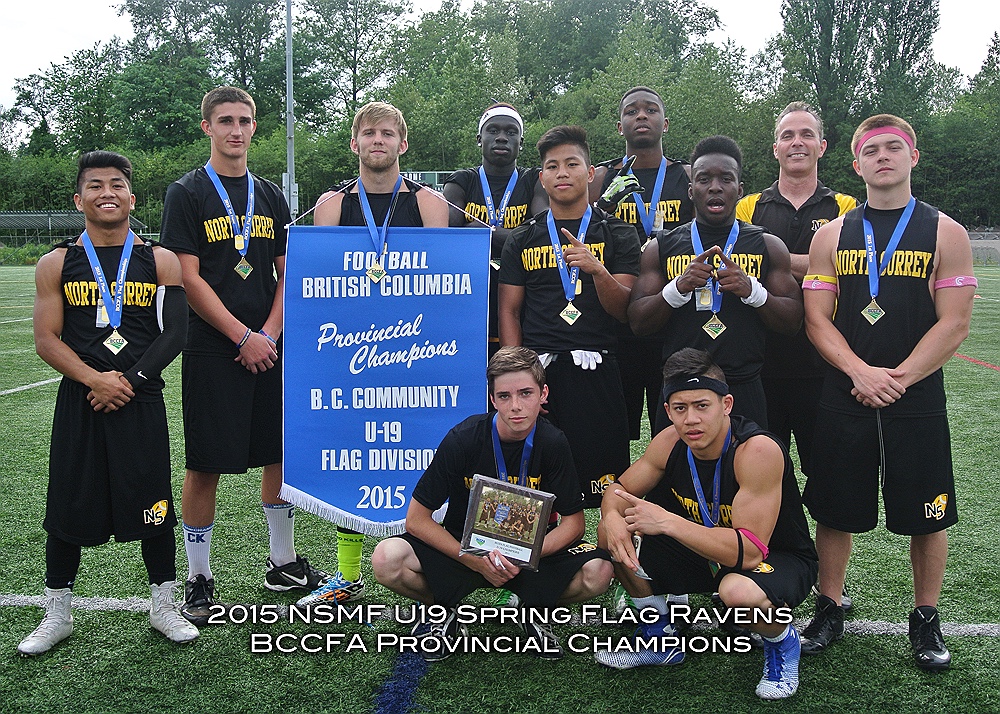 FLAG FOOTBALL: Final play of game secures provincial title win for North Surrey Ravens
Willy Brenner comes up big as U19 team earns 14-12 win over West Kelowna
BURNABY — Some last-play heroics led the U19 Ravens of North Surrey Minor Football to a flag football provincial title on Sunday (May 31).
Read full story at Surrey Now Website
---
Dragons Rally to Win First Provincial Basketball Championship in School History

Congratulations to 3 of our Midget Bears Players, Emeka Okuma, Simon Odong and Shawn Domingo as their team, the Fleetwood Park Dragons knocked off the top seed in the Sir Charles Tupper Tigers 73-65 to capture the 2015 BC High School Basketball Boys 3A Championships at the Langley Events Centre on Saturday night.
Emeka with a team-high 20 points, 18 rebounds and an astounding 7 blocked shots was selected to the tournaments 1st Team All Stars and took home the tournament MVP.
---
NS Bear wins Helen Johnson VMFL Scholarship. Congrats to @ColbyP01. http://t.co/Ys8wXGIcnq

— NSMF North Surrey (@NSMinorFootball) March 8, 2015
---
NS Cheerleader wins John Henry VMFL Award. Congrats to Ashley S. http://t.co/u1r0AjKGkO pic.twitter.com/vtzuichOYG — NSMF North Surrey (@NSMinorFootball) March 8, 2015
---
Our own NSMF Bears RB @Jamel_Lyles22 in the news @MBBisons. http://t.co/DC1lR92CJ6

— NSMF North Surrey (@NSMinorFootball) February 4, 2015
---
#TeamBC U18 falls 21-6 to WA VASA. #TanoaBowl Game story: http://t.co/4t65BvH15I http://t.co/PZFDKB3GkT — Football BC (@Football_BC) December 28, 2014
---
Lagou breaks a couple of tackles and gets #TeamBC a first down. Ball on VASA's 34. #TanoaBowl

— Football BC (@Football_BC) December 28, 2014
---
#TeamBC Grade 8 falls 22-0 to the NW Cougars. #TanoaBowl Game story:… http://t.co/p1jQVugKC6 — Football BC (@Football_BC) December 28, 2014
---
We will miss you, Jaylen Sandhu! pic.twitter.com/xFY2nK0oWa — Jim Head (@jimhead27) December 18, 2014
CBC Report /VanCity Buzz Report
---
---
---
Stamps fall in double OT to Bears – December 4, 2014
---
---
NSMF VP John Hocking to receive City of Surrey Award for Outstanding Football Volunteer. http://t.co/noLv4ZajdM — NSMF North Surrey (@NSMinorFootball) December 2, 2014
---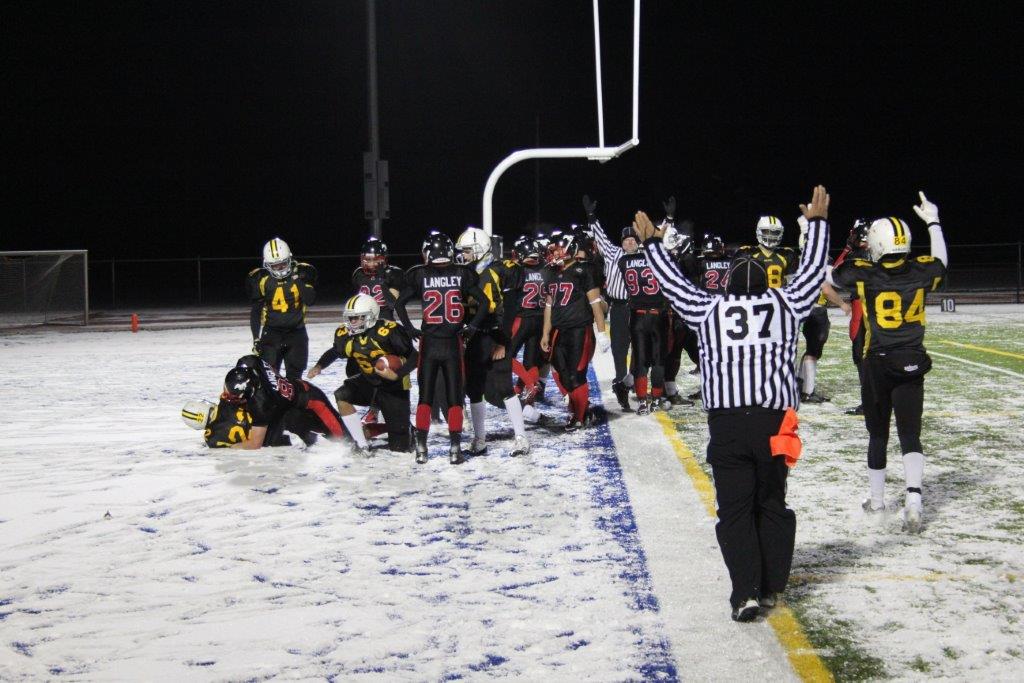 ---
Don't mess with the Eagles – November 27, 2014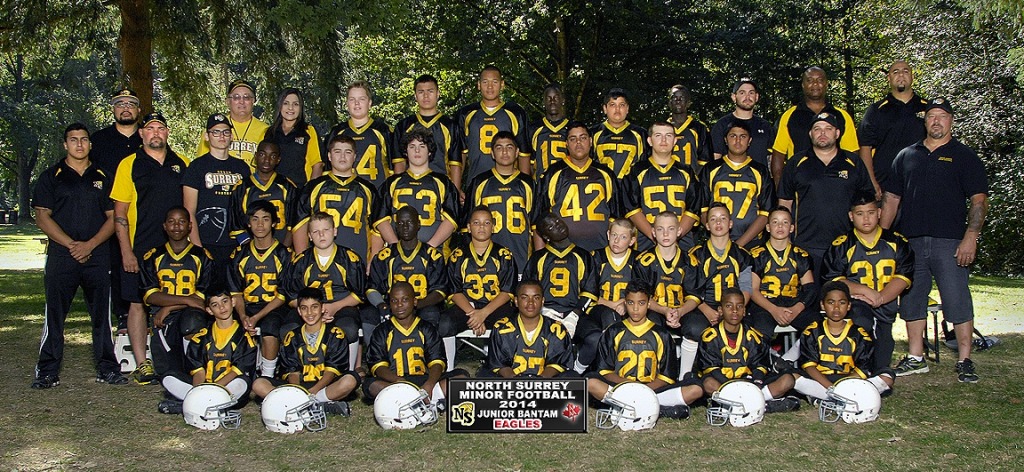 ---
---
See @ColbyP01 in his @SASSYawards video. Proud of this guy! I'm super awkward but he kicks butt. http://t.co/kAronal90m @NSMinorFootball — Jim Head (@jimhead27) November 28, 2014
---