Safe Contact teaches safe tackling techniques that emphasizes making contact with the chest and front shoulder and not the head. It emphasizes a blocking technique that stresses making primary contact with the hands.
North Surrey Minor Football adheres to the Safe Contact policies put forth by Football Canada and Football BC at all levels.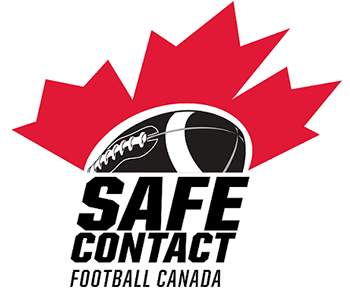 There are inherent risks of injury in a contact sport like tackle football.
It is essential that all coaches are well schooled in the proper techniques of tackling and blocking and in conducting both tackling and blocking drills. Every coach has the responsibility to be able to properly teach tackling and blocking and to conduct that training in a safe and progressive manner according to the experience and capabilities of his/her athletes. Every player on a team must be able to tackle and block correctly.
As part of Football Canada's National Coaching Certification Program (NCCP) every coach must complete this Module and demonstrate during the Formal On-site Observation his/her competency in conducting contact safely as part of the National Coaching Certification Program.
---
Safe Contact Week begins in 2017
BY FOOTBALLCANADA · MARCH 22, 2017
Football Canada would like to remind the football community that as of March 31, 2017, all member coaches must be Safe Contact trained in the latest safe blocking and tackling techniques in order to step out onto the field.
The requirement applies to any coach of an amateur team or club that falls under Football Canada's umbrella.
Any new coach has a year from the time he or she first steps on the field as a coach.
Starting in 2017, teams and clubs must now begin their respective seasons with three hours of helmet-only Safe Contact training, known as Safe Contact Week. The new measure applies to all teams or football clubs that fall under Football Canada's umbrella. Safe Contact Week is to begin at the start of all team's training camps to practice Safe Contact fundamentals.
"Every player on the football field needs to be able to understand and execute the football fundamentals taught in Safe Contact," said Aaron Geisler, manager of development, Football Canada. "From day one, players and coaches from across the country will be working on developing these fundamentals."
"We're excited to bring teams together to take part in this nationwide initiative. It's a great way to reinforce Safe Contact techniques and enhance player safety."
The requirement applies to any coach of an amateur team or club that falls under Football Canada's umbrella. As of March 31, 2017 all coaches must also be Safe Contact trained in the latest blocking and tackling techniques to begin the season. Safe Contact Week was one of 21 strategies developed from the sport's competition review.
*Note: Strategy 2A Ban of two tackle seasons concurrently & Strategy 4A Safe Contact Week*
What Safe Contact Week means for teams:
Must complete at least three hours of helmet ONLY training, practicing Safe Contact techniques like blocking and tackling
Safe Contact Week is to begin at the start of teams' respective training camps
All players, regardless of position are expected to participate
Suggested format:

Three, one hour practices

In rare cases, due to instances such as weather, scheduling or field availability, Safe Contact Week must be completed in the first 14 days of a team's season

Must comprise at least three cumulative hours of Safe Contact on-field training
---
Coaching Safe Contact Video Series from Football Canada
Click in upper left corner of video frame for list of videos in series.
---

Safe Contact Videos from Football BC
Unit 1 – Reasons to Teach Safe Contact
Unit 2 – Bad Tackling Technique
Unit 3 – The Positions, Hitting Position
Unit 4 – Warm Up
Unit 5 – Dynamic Stretch
Unit 6 – Foot Work & Speed
Unit 7 – Approaching the Tackle
---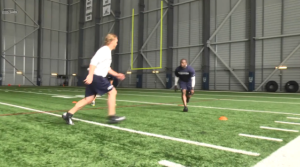 NOTE: This method is not sanctioned or authorized by Football Canada or Football BC. It only shows that Safe Contact is taken seriously in all levels of football right up to the NFL.

Looking for a way to help the sport of football with the issue of players leading with their head when tackling, Seahawks coach Pete Carroll has made an instructional video that has been embraced by the NFL and is being sent to high school and youth programs around the country.