The North Surrey Minor Football Annual Joe Connelly Bronze Boot is the longest running Pre-Season Football Tournament in BC. It is traditionally held on the last weekend in August (weekend before Week 1 of VMFL Regular Season) and includes teams in all divisions from the VMFL, Valley and Island Leagues
Bear Creek Park
Saturday: Atom, PW, JB
Sunday: Flag, Bantam, Midget
If you are interested in entering a team in the tournament, please contact us here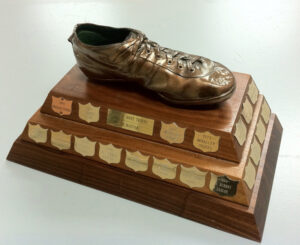 Rosters
Please hand in Numerical PA Roster, printed with first name first, to the announcer's booth upon arrival.
Guidelines/Rules
Each team plays three (3) 25-minute games (Midget will play one full game)
No time outs or half time
Kick-offs to start game and after scoring plays
No on-field warm up. Teams can warm-up on the practice / side fields prior to games.
Teams must be ready and behind the team benches at the three-minute whistle.
Coin tosses between all captains will occur prior to each Division.
Tournament Winners/Tiebreakers
Best record: 2 points for win / 1 point for tie
Teams tied: Game played between tied teams decides winner
Still tied: Least points against
Still tied: Points for will decide
Still tied: Co-champions declared