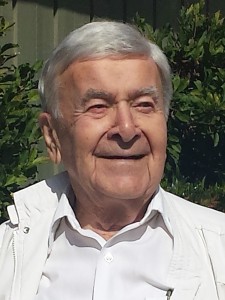 It is with great sadness that we announce the passing of Ken Smith, long time President, friend and mentor on March 27,2023 at the age of 103.
Ken was involved with NSMF since 1970 and continued to check in at the Bear Creek clubhouse every Saturday to say hi and socialize with the parents, players and cheerleaders.
In 2000, when Ken turned 90, North Surrey dedicated it's meeting room to him to show appreciation for his efforts over the years toward amateur football in BC. You can see a plaque on the door to the meeting room in his honor.
His sons, Craig and Grant, both wore the black and gold for North Surrey. During that time, Ken not only became president of NSMF, but also became president for the Surrey Rams, who played out of Bear Creek at that time. To raise funds for NSMF, Ken got involved with bingo at Cedar Hills Hall which led to a relationship with Bingo Country which in turn led to our gaming grants which are the lifeblood of our association.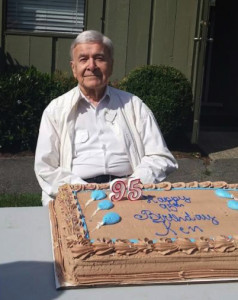 During his time as president of the Rams, he is credited, along with another NSMF President, Don Shannon, for saving the Junior team during tough times in the 80's. He secured the grant necessary to build the lights on the Bear Creek practice fields.
For all his efforts in amateur football, Ken is now a lifetime member of both BC Junior Football and Canadian Junior Football.
Ken is a decorated war veteran who served with the Cameron Highlanders of Canada in WW II and a survivor of the Dieppe Raid on the coast of France.
We appreciate everything Ken has done in his life for North Surrey, amateur football, and for his country.