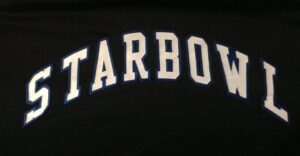 The Starbowl is a fantastic opportunity to display our young men's talents in an all star game format. Players from all over the province are selected to participate. The Starbowl organizers are asking for help in driving and billeting the out-of-town players when they come for practices and the game.
Please read the request below and let us know if you can help out in any way.
---
There are a couple of things we need help with as the managers are struggling.
1. Need volunteers to transport Island players from the ferry to the parks.

2. Desperate need of billets. We estimate 40 kids coming from the island and require a place to sleep on April 2nd and April 9th.
Perhaps there are some people within your association that have extra room at home that can take a kid or two. In all the years I have done this is maybe the most challenging for billets with the number of kids. I can assure you that in the years we have done this, we have not had one single incident that would ever deter us from soliciting parents to house these kids. These are all good kids and only here to play football.
Any help you can provide would be greatly appreciated.
Thank you.
---