The weather was stellar for the 2016 BCCFA Spring Flag Provincial Tournament held at Capital News Centre Fields in beautiful Kelowna this past weekend, June 4 & 5th. Despite long delays between game postings and the scorching heat, our North Surrey team all represented with amazing effort and respect.
Surrey was represented by 12 teams, 2 each in U10 and U14, and 4 each in U12 and U16. In the 4 division, NS had two team make the finals, both taking home a Silver medal for their awesome play, The U10 Destroyers Coached by Ereen Dizon and Andy Lorteau, while Coach Leon Lilley and Mike Carlon took their U16 Villains to the final game. Ironically, both played Westside Warriors.
Our U12 Division was led by Coach Atesh Rup, Brian Gendur and Justin Hamilton led their Outlaws to a 4th place finish and our U14 Villainz took 5th place under the coaching of Terry Bodnarchuk and Preet Singh.
I don't have the final placing for all 12 teams yet, but will post them here as soon as I do, so please check back. In the meantime, enjoy this gallery of photos from an amazing weekend of football.
NSMF Provincial Results
U10 Destroyers Silver Medal
U10 Warriors TBA
U12 Outlaws 4th
U12 Destroyers 9th place
U12 Assassins 11th place
U12 Blazers 13th place
U14 Villainz 5th
U14 Vipers 16th place
U16 Villains Silver Medal
U16 Tigers 10th place
U16 Edge 19th place
U16 Spartans TBA
U19 Bears 6th place
U19 Seahawks 15th place
---
This weekend our Spring Flag teams will travel to Kelowna for the U10-U16 BCCFA Spring Flag Provincial Championships.
At the end of the regular season, NS teams are looking good going into the Provincial Tournament set to take place at Capital News Centre, Kelowna on June 4th and 5th. We have 9 teams in the top 10 of their divisions including 2 in the top 5 in U12 and U16 divisions.
Field Map and Schedules
More Provincial details here →
Good luck to all our teams. Play hard, play fair. Effort and Respect.
Watch Online
Various games throughout the day on Saturday and Sunday are scheduled to air on a live streaming online broadcast at http://vbnsports.com.
Search for FLAG.
---
U19 Provincial Championships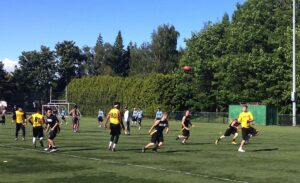 The Provincial Championships for the U19 division took place at Hugh Boyd Athletic Park in Richmond this past Sunday, May 29th. 21 teams competed in the event with the Kelowna Panthers taking first place. Our NS Bears finished 6th and our Seahawks placed 15th overall.