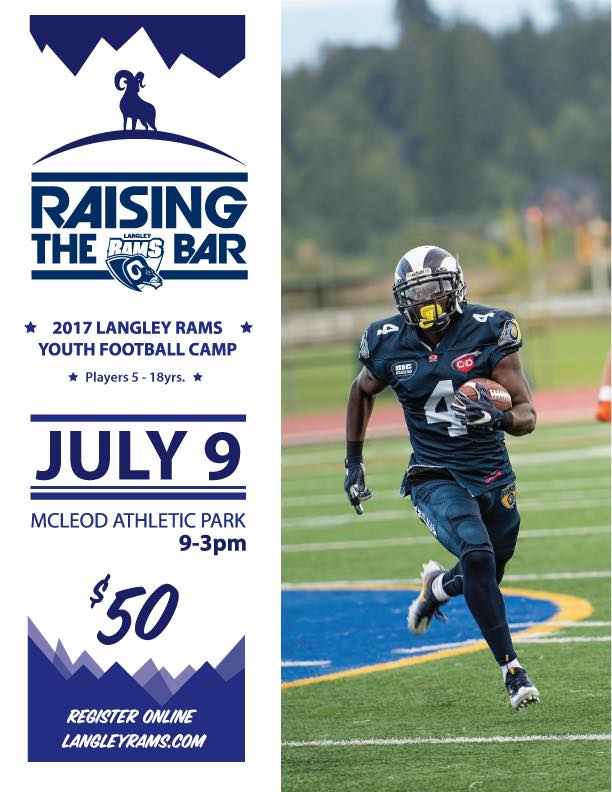 We have a number of people that would love to attend the camp, however the camp is scheduled for Mothers Day. It is a conflict in honoring the most important person in our lives. We as an organization agree that our Mothers take a front seat to any other activity planned for that day. In respect to our Mothers we have rescheduled the camp to July 9. The criteria as the original camp schedule.
All the players that registered will not have to re-register and their spot will be secured.
The Langley Rams organization would like to extend a thank you to all of your for your support and above all Happy Mothers Day to all of yours and our moms  !!!!
Development camp for football players ages 6 – 18 held July 9th at McLeod Athletic Park. Coaches from the Langley Rams will run this high level development camp.
For Camp Information Please go to: http://langleyrams.com/development-camps/
ATHLETES WILL HAVE THE OPPORTUNITY TO DEVELOP SKILLS IN A VARIETY OF OFFENSIVE AND DEFENSIVE FOOTBALL POSITIONS
CAMP FOCUS WILL BE ON SKILL DEVELOPMENT, SOCIAL DEVELOPMENT AND MOST OF ALL… FUN
YOUNGER AND LESS EXPERIENCED PARTICIPANTS IN THIS CAMP WILL BE INTRODUCED TO THE BASICS OF

PHYSICAL SKILLS: AGILITY, BALANCE, COORDINATION, RUNNING, CHANGE OF DIRECTION, FLEXIBILITY
TECHNICAL SKILLS: THROWING, CATCHING, RECEIVING, BALL SKILLS, ROUTE RUNNING, PASS RUSH, and PASS PROTECTION
TACTICAL SKILLS: INTRODUCTION TO THE FOOTBALL GAME – BASIC RULES, OFFENSIVE AND DEFENSIVE POSITIONS,
HAVING FUN: PROGRESSING TO – PLAYING A TOUCH FOOTBALL GAME-5 ON 5

EXPERIENCED ATHLETES WILL HAVE THE OPPORTUNITY TO DEVELOP SKILLS IN A VARIETY OF OFFENSIVE AND DEFENSIVE FOOTBALL POSITIONS. EMPHASIS WILL BE ON BUILDING SOLID COMPETITIVE SKILLS. A FOCUS WILL BE ON DEVELOPING SKILLS TO PREPARE FOR UPCOMING CHALLENGES.

PHYSICAL SKILLS: BUILD ON THE STRENGTH, SPEED, AGILITY, BALANCE, COORDINATION, RUNNING, CHANGE OF DIRECTION, and FLEXIBILITY
TECHNICAL SKILLS: REFINE AND IMPROVE THROWING, CATCHING, RECEIVING, BALL SKILLS, ROUTE RUNNING, PASS RUSH, and PASS PROTECTION
TACTICAL SKILLS: DEVELOP OFFENSIVE AND DEFENSIVE STRATEGIES WITH TECHNICAL SKILLS TO THE FOOTBALL GAME – OFFENSIVE AND DEFENSIVE POSITIONS STRATEGIES
COMPETING: PROGRESSING TO PLAY TOUCH 7 ON 7 and 1 ON 1 FOR THE OL/DL

EQUIPMENT: NON-CONTACT SKILLS CAMP – NO PROTECTIVE EQUIPMENT REQUIRED
SURFACE: FIELD TURF – TURF CLEATS REQUIRED