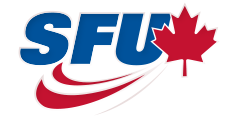 June 30, 2018
9:00 am – 2:00 pm
SFU Bby Campus, Terry Fox Field
Entering Grades 9 – 12 in Fall 18
$50
The SFU Elite Football Camp is for high school players entering Grades 9 to 12 who are interested in athletic and skill development by the SFU Football staff. The three-hour camp consists of athletic skill work and testing (40 Dash, Broad Jump, Shuttle, etc.) followed by competition periods within your position group.
Players will spend the majority of their time working with position coaches from SFU Football in order to improve their individual technique and skills and they will have a chance to compete in 1-on-1 and group settings. Each camper will be provided with an SFU Football Camp T-Shirt.
Required Gear:
Football Cleats – No Metal Spikes
Athletic Gear