Friday & Saturday
April 7th & 8th , 2017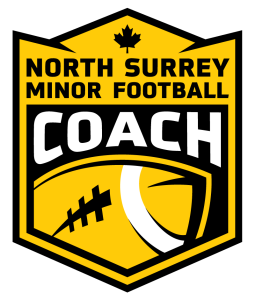 Douglas College
700 Royal Avenue, New Westminster
The BCPFA is pleased to announce it's inaugural coaching clinic that will take place on Friday, April 7 & Saturday, April 8th at Douglas College in New Westminster.
Please note that two clinics are covered by the BCCFA Coaching Development – Safe Contact & Introduction to Competition and Position scheduled on Saturday, April 8th.
BCCFA member coaches can use the coupon code 2017 BCCFA.
NSMF will cover the cost of the the clinic ($65) for NS Coaches and by using the code above, the Safe Contact & Intro to Comp sessions will not be charged. Bring your $65 receipt to the clubhouse for reimbursement.
Please register at www.bcpfa.com
BCPFA – Coaching Clinic- Members Only (BCCFA, BCFC, UBC, BCFOA)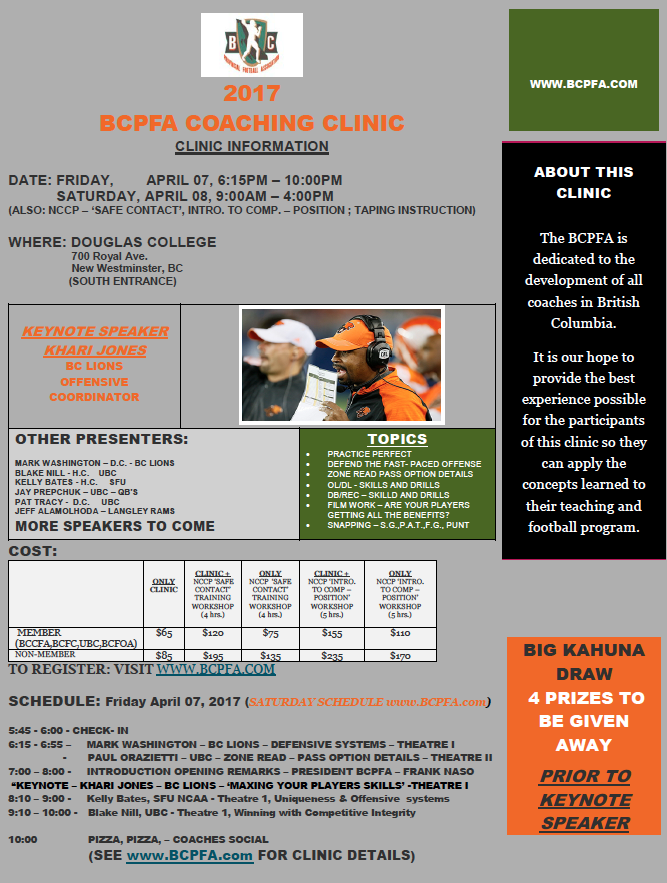 Modules Offered:
Safe Contact
Intro to Competition & Position
Taping Clinic
Prerequisites
Each coach has a NCCP #


https://thelocker.coach.ca/account/login?ReturnUrl=%2f

Registration will be through BCPFA website:
http://bcpfa.com/
2017 BCPFA COACHES CLINIC
(Subject to change without notice)
*UPDATED – BCPFA COACHING CLINIC SCHEDULE* – Douglas College, New West
Register at 
www.BCPFA.com
 – BCPFA – Select – 
Coaching Clinic- Members Only (BCCFA, BCFC, UBC, BCFOA)
Community coaches coupon code is 2017 BCCFA (which can be used for Safe Contact & Introduction to Competition & Position AND it may be used for the combo package – Clinic and Safe Contact and/or Clinic and Introduction to Competition & Position – please note for the combo options the system will deduct the certification course amount and the coach will be responsible to pay the balance)
Friday, April 7th
5:45pm – 6pm – Check-in (Walk-up Registrations CASH ONLY)
6pm – 7pm – Mark Washington, BC Lions (Theatre 1 – Defensive Systems)
6pm – 7pm – Paul Orazietti, UBC (Room S1650/1670) – Zone Read & Pass Option Details)
7pm – 7:05pm – Opening Remarks by Frank Naso, BCPFA President (Theatre 1 – Introductions)
7:05pm – 8:00pm – Keynote speaker – Khari Jones, OC BC Lions (Theatre 1 – Maxing Your Player Skills)
8pm – 9pm – Kelly Bates, Head coach SFU NCAA (Theatre 1 – Recruiting & Offensive Systems)
8pm – 9pm – Pat Tracey, UBC (Room S1650/1670) Filmwork, Why & how
9pm – 10pm – Blake Nill, Head coach UBC (Theatre 1 – Winning with Competitive Integrity)
9pm – 10pm – Wayne McMurchy, Big Kahuna (Room S1650/1670) Equipment Mgmt. Fitting/Sizing
* Coaches Social at 10pm – PIZZA* Room S1650/1670
——————————————————————————
Saturday, April 8
8:45am – 9am – Check-in (Walk-up Registrations CASH ONLY)
9am – 10am – Khari Jones, BC Lions (QB Skills & Drills Gym 1)
9am – 10am – Jeff Alamolhoda, Langley Rams (LB Skills & Drills Gym 2)
10am – 11am – Neil Steffler, Langley Rams (Receiver Skills & Drills Gym 1)
10am – 11am – Neil Cartwright, UBC (OL Skills & Drills Gym 2) & Jeff Alamolhoda (Snapping instructions SG, PAT, FG and Punting)
11am – 3pm – Safe Contact – (Room N1222) Must Pre-register
11am – 4pm – Intro to Competition & Position – (Room N1231) Must Pre-register
11am – 3pm – Taping course – (Room N1119) Must Pre-register