Sunday, July 24th
11:00 am – 2:00 pm
BC Lions practice facility in Surrey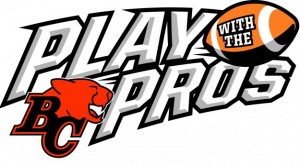 Play with the Pros, proudly supported by BC Egg, matches BC Lions players with boys and girls, providing them with an opportunity to participate in a non-contact skills clinic hosted by their favourite BC Lions players.
This year's Play with the Pros will take place on Sunday, July 24th, 2016 from 11:00 AM to 2:00 PM at the BC Lions Practice Facility (10605 City Parkway, Surrey).
The participants are divided into groups and rotate through various skill stations every 10-15 minutes. Several BC Lions players are assigned to each of the eight stations, teaching skills such as passing, receiving, blocking, and tackling.
For more information and to register, Click Here →