NSMF Results:
5 man
Atom 2nd
PW 1st
JB 1st
Senior 1st
PW pairs
Juliette and Andrea 1st
JB pairs
Angela and Marissa 2nd
Samira and Yarlidis 1st
Squad
Atom 1st
PW 3rd
JB 1st
Senior 3rd
Spirit Award: Westside
---
Saturday, November 25, 2017
10:00 am – 3:00 pm
Elgin Park Secondary, 13484 24th Ave, Surrey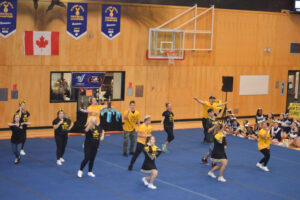 Please make an effort to come out an support our Cheerleaders who have cheered for your teams every weekend, rain or shine. This is their time to shine. Come out in your Black & Gold and loud cheer voices. Lets bring the Spirit Award home again!!
This is a loud, high energy, raucous event every year, full of fun and great performances.
All our NS cheer teams do an incredible job, enduring the rain and snow every week to cheer on all our football teams. Show your appreciation and come out to cheer on the athletes that cheer for us!
Admission is $10 per person, 5 and under will be free.
Doors open at 9:00 am
Comp starts at 10:00 am